Sebby has a real interest in trucks and construction work. There is a huge construction site across the street from our house and he loves to watch from his high chair during meal times. This morning it was quite rainy so although we didn't go outside, he spent a long time standing in the living room window, watching the activity on the construction site.
We walked up to the big Tesco to do some shopping this week and as soon as we passed by the "Bob the Builder" mechanical digger in the entrance, he wanted on! I am against putting money in those kind of machines but I let him sit on it for a few minutes. He had great fun driving the digger and didn't even notice he was missing out on the paid action of the machine!
On Wednesday there were some men working at the playground at the park at the bottom of our street. Sebby didn't mind at all that half the park was closed, he stood against the fence the whole time we were there, watching the digger at work.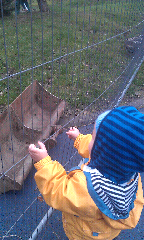 Wonder if he wants to be a digger driver when he grows up?!